What The Urantia Book Means to Me By Samantha Nior
Printer-friendly version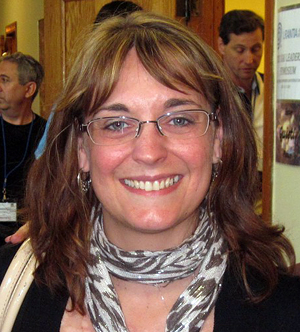 By Samantha Nior, Hilversum, the Netherlands
I am a second generation reader of The Urantia Book. My parents, who are French, started reading the book when I was three or four years old. They studied for years, often with me in tow, with Henry and Bauk Begemann. Of course I did not understand it then, but later on, when I was older and had my own book, I read it some but found it difficult to understand. Nevertheless, I always kept it next to my bed because I felt safe and secure with it there.
At the time of puberty I had a lot of questions, and my mother answered many of them. So I did know the major teachings of the book, and I believed them.
As a young adult, I experienced some difficult and trying times and took little interest in spirituality. At the age of 29, I decided to read The Urantia Book in earnest, inasmuch as my other decisions until then only made me feel lost and disconnected. I felt like Pinocchio and as though my puppet strings were being cut one by one.
I decided to join a study group which I attended for two years. This was eight years ago, and since then, I have come to understand so much about life, love, purpose and God. Currently I host two study groups and am the president of the Dutch Urantia Association. I know that more beautiful opportunities and guidance are in store for me. This I would not have, had I not made the decision to read The Urantia Book and to do the will of God.
The Urantia Book has been an inspiration, a calming influence in times of worry, a guide in times of confusion, a security in insecure moments, a source of hope in times of anxiety, a big picture perspective in times of narrow thinking, and the source of overall knowledge of the love of God and the brilliant and loving guidance of the universe.
Life is sometimes difficult, but when it is, it is because I am not living my life as I should. Straying off the "path" brings uneasiness and unhappiness. Staying on the path brings happiness, love and peace.
I am still learning every day. I am blessed by friendships with other readers, people who continue to teach and inspire me. Connections with other readers around the world continue to arise, and opportunities for service to The Urantia Book project always present themselves.
Truly I have been blessed to have received the gift of The Urantia Book.