Urantia Foundation Needs Your Help
Printer-friendly version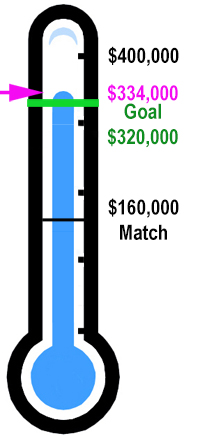 December 3, 2013
Dear Friends of Urantia Foundation,
As the holiday season approaches, let us remember one of the greatest gifts we have received in this life: the supernal teachings of The Urantia Book. And what better gift could we give in turn than to assure that this epochal revelation continues to be translated and disseminated around the world? Urantia Foundation is dedicated to this task, which is made possible by your support. Thank you!
This year we have been challenged by four anonymous benefactors to raise $320,000 between now and December 31, 2013. These donors have pledged $160,000 in matching funds. Your donations will be doubled dollar-for-dollar until we reach our goal!
As a donor to this project, you are in good company. Do you recall the story of the Apostle Matthew?
Because he was a customs collector and came from a family of businessmen and tax collectors, Matthew was regarded by his fellow Jews as a "publican and sinner." But his time with the Master would prove that he was up to the task of overcoming the intolerances and biases toward him. The other apostles never knew that frequently the money he "raised" came from his own pocket. His fellow apostles affectionately called him the "money-getter."
Matthew was overwhelmingly grateful that the Master and the apostles accepted him into their group, and he expressed his gratitude through wholehearted devotion and heartfelt generosity to the cause. Like Matthew, you and I are privileged to be associated with a divine revelation during the early years of its existence. These are times of great struggle but of ultimate triumph. Where else can you participate in a project that is global in scope and will penetrate to the spiritual core of every human being? Do you know of any other investment opportunity that will continue to yield returns for the next millennium?
To join hands in the dissemination of the fifth epochal revelation is, we believe without reservation, life's greatest opportunity. Please consider a generous donation to Urantia Foundation's 2013 Matching Fund Drive and join us in the mission of seeding The Urantia Book and its teachings globally.
In service,
The Trustees of Urantia Foundation
Gard Jameson, Richard Keeler, Marilynn Kulieke,
Georges Michelson-Dupont, Henk Mylanus,
Mo Siegel, Judy Van Cleave
Donate via Web:


Donate by Phone:
In U.S. - Central Standard Time - 1.773.525.3319
International - 01.773.525.3319
Donate by Mail:
Urantia Foundation
533 W Diversey Parkway
Chicago, Illinois, 60614