From Seppo Kanerva, Urantia Foundation's New President
Printer-friendly version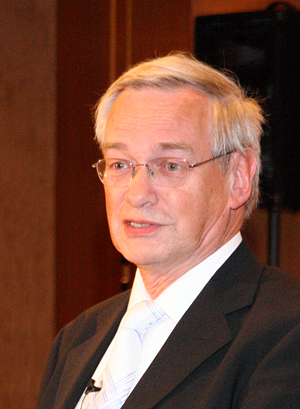 Seppo Kanerva
It is with great pleasure that I accept the opportunity to serve the revelation as Urantia Foundation's new President. I thank my colleagues for their confidence in me and will do my best to fulfil this awesome task. In my first statement as President to the readers of Urantian News, I wish to focus on a few items that I consider essential.
First of all I wish to express my personal gratitude to my predecessor Richard Keeler for his immeasurable contributions to the welfare of the revelation. During Richard's presidency the expanded activities of the Foundation and the progress of the revelation on all continents became undeniable and irreversible facts. Because of the many translations of The Urantia Book, the international character of the Foundation and the readership movement gained momentum and also became undeniable and irreversible. I know that throughout his term, Richard devotedly worked for many goals that I applaud and share: the welfare of the revelation, implementation of the Declaration of Trust, preparing translations of The Urantia Book into as many languages as possible, protecting the revelation against violations and protecting the copyrights and marks, keeping the text perpetually in print, evolutionary growth and progress of the Foundation's activities and of the movement as a whole, internationalisation, and the Foundation's financial solidity and stability.
I will do my best to promote and work for all these goals and objectives - as part of a team and through cooperation with my fellow Trustees, the Foundation's staff, branch offices and representatives, IUA members, supporters and volunteers, and all other dedicated readers of The Urantia Book. There are also many other essential needs that require our constant and active effort, including further financial stabilisation of Urantia Foundation, strengthening its structure, overcoming divisions among readers of The Urantia Book, and nurturing individual and collective cooperation with our superhuman friends - in order to bring about a spiritual renaissance for all mankind by putting the teachings of the revelation into practice throughout the world.
I hope and desire to do the Father's will, sharing that wish with all other dedicated believers and religionists. This desire is the basis for our joint efforts. As we go forward, I believe it is the Father's will that we be of good cheer and always strive to do our best, while remaining firm in our devotion and commitment to the truth. In exercising mercy, forgiveness, tolerance, and justice, we should use our God-given minds to implement and serve the revelation contained in The Urantia Book - an important part of the Father's plan for human evolution that has so recently illuminated and inspired us.