Eulogy for Baukje Begemann
Printer-friendly version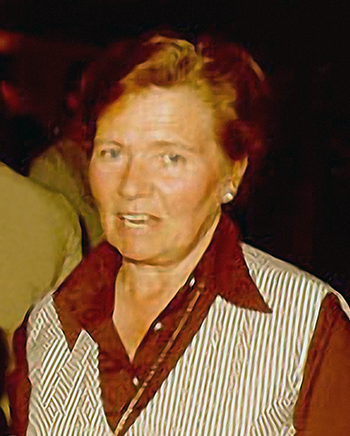 Baukje Begemann
by Carolyn Kendall
Thirty-two years ago, Henry Begemann and his wife Baukje broached their idea of a Dutch translation of The Urantia Book with two American visitors, Foundation Trustee James Mills and his wife Eunice. This was the spring of 1972, when Henry and Bauke (as she was known to American friends) were extending their cordial hospitality to Jim and Eunice at their large, comfortable home in Wassenaar, the Netherlands. Henry, a retired insurance executive, shared his dream with Jim, and the two men explored the monumental task of portraying the supernal truths of The Urantia Book in a different language. (At the time the only existing translation was the French version, La Cosmogonie d'Urantia, a product of the dedicated efforts of Parisian Jacques Weiss.)
As a younger man, Henry zeroed in on many alternative religions and cults, but he rejected them all because they did not measure up to his innate understanding of what Deity is and should be. When Henry encountered The Urantia Book he recognized it as genuine, vowing to dedicate the rest of his life to exploring its spiritual truths.
Henry's and Bauke's home had been their wartime abode during the dark years of Nazi occupation, but now they made it the warm and welcoming site of a long-term study group of friends and neighbors. They also raised their daughters in that Wassenaar home, the rear of which adjoined a picturesque canal.
Bauke Begemann was always gracious and motherly whether she was in her own home, a guest in another's, or traveling to a conference. But her home was her true element, a place where she often bustled about her kitchen preparing coffee and refreshments.
When Henry was appointed International Field Representative, he and Bauke traveled to many countries to encourage the formation of study groups. Bauke was an excellent balance wheel who adjusted to Henry's often intense association with Foundation and Brotherhood leaders in the1970s and 1980s. She often calmed the waters.
Henry died in 1990, but Bauke and her daughter Nienke completed his meticulous translation. In 1998, Het Urantia Boek was published.
Bauke Begemann passed on to the mansions on high on Thursday, January 22, 2004. She did so in complete serenity, suffused with faith in the Father's love and knowing she would next awaken in the ascendant life.