Seeds Take Root In India
Printer-friendly version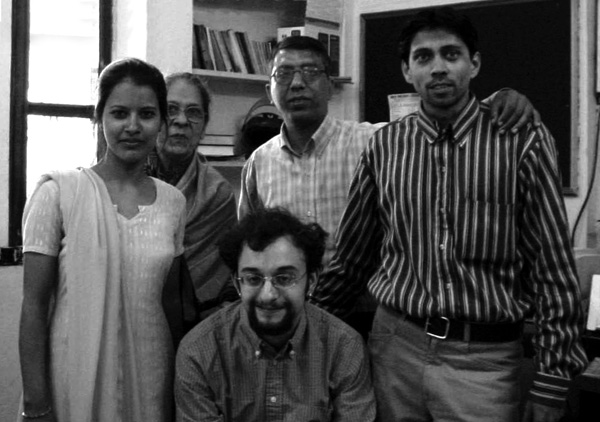 Matthew Viglione of Urantia Foundation (front) with ISPCK's production staff
There are over one billion people in India, 16 official languages–with English being among the most important–over 1,500 dialects, and significant concentrations of nearly every major religion on the planet. India is a country of contrasts–of modern and cosmopolitan urban centers and innumerable rural hamlets. It has been a center of civilization since ancient times, producing some of the oldest surviving written texts and providing modern India with a rich cultural tradition. Urantia Foundation is pleased to be able to offer the people of India the opportunity to add the teachings of The Urantia Book to this rich heritage.
Urantia Foundation recently completed preparations for its first printing of the English text of The Urantia Book on the Indian subcontinent. In partnership with one of the largest and oldest Christian publishing houses in India, a special edition of The Urantia Book will soon be available in bookstores throughout India. With a fauxleather, gold-embossed cover, in packaging specially designed for the Indian market, this attractive edition will mark the next step in our efforts to seed the teachings among mthe people of India.
Those efforts were begun in earnest nearly a decade ago when Foundation Representative Mark Bloomfield began placing books in libraries throughout India. His efforts and knowledge of this region led the Foundation to participate in several bookfairs in India, with efforts led by Kathleen and Trevor Swadling of the Foundation Office in Australia. These efforts eventually sparked discussions with the Indian Society for Promoting Christian Knowledge (ISPCK), a nonprofit publisher and distributor that has operated in India since 1711.
Urantia Foundation was looking for ways to further its dissemination efforts in India. The General Secretary of ISPCK wanted to provide copies of The Urantia Book to graduates of theological colleges throughout India. After the Delhi Bookfair, where preliminary meetings took place, the General Secretary visited Foundation headquarters at 533 Diversey in Chicago. An agreement was struck to print 10,000 books in India, to donate 6,000 books to theological students there, and to distribute the rest for sale in bookstores at a subsidized price of 100 rupees (about US$2.00).
With an agreement in place, the work began of getting the text into print in a region 12 time zones distant from the Foundation's Chicago headquarters. After formatting the new book was completed, including a Keyword Index to provide the theology students with an added reference tool, the text was ready to cross the globe and take printed form. Foundation staff member Matthew Viglione traveled to Delhi in March to deliver the files and to work out the details involved in the printing process.
After a week of meetings and orientation with the publisher's production department and their printer, "any lingering doubt disappeared and was replaced by extreme confidence in their processes," Matthew said. With such confidence, the final discussions and decisions concerning the printing were quickly resolved. With proofing and final approval of the text completed at the end of April, The Urantia Book will be coming off the presses in Delhi before the end of the school year. The seminary graduates will have their own copy of The Urantia Book, printed in India. Distribution to bookstores will begin shortly thereafter. Field Representative Mark Bloomfield, who was responsible for seeding thousands of Indian libraries, will remain in Delhi to oversee the distribution of the newly printed text.
What an impact this could have! We have embraced this opportunity, knowing the potential effect these programs could have in bringing new truth to millions of hungry souls. Urantia Foundation looks forward to a long and fruitful relationship with our new publishing partner in India. Together we shall reach out to the people of the world's largest democracy.
This seeding of The Urantia Book in India is being made possible thanks to the contributions of generous readers. For approximately $45,000, these books will be spread far and wide throughout India. We hope to continue this program, which will need funding again next year for approximately the same amount. We invite those of you who are excited about this project to earmark your donations for this program.
We hope that you share our exhilaration that the seeds planted in India's ancient soil may one day bear the fruits of renewed spiritual enlightenment.