Board Of Trustees Election - Seppo Kanerva
Printer-friendly version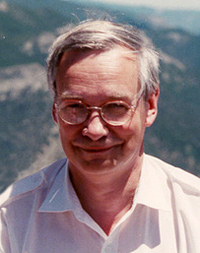 Urantia Foundation welcomes a new Trustee, Seppo Kanerva, who was elected to the Board on May 15, 2003. Seppo was elected to fill the vacancy on the Board created by the departure of Kwan Choi. We thank Dr. Choi for his service and wish him well in the future.
Seppo has been a loyal, trustworthy, and faithful servant and student of the fifth epochal revelation since 1976 and has hosted study groups in both Finnish and English for the past several years. He helped to organize the Urantia Association of Finland, and he managed Urantia Foundation's Helsinki office for eight years before passing on that responsibility to the current managers in 2001.
In 1993 Seppo completed the seven year project of translating The Urantia Book into Finnish. As Urantia Foundation's Translation Manager, Seppo has overseen the translation and publication of The Urantia Book into six languages, with seven more nearing completion, and nine additional translations in various stages of development. He also coordinates the work of scores of volunteers who translate newsletters and other communications into many languages. His extraordinary talent and passion for linguistics has been extremely valuable to Urantia Foundation.
During the early 1990's, Seppo was a member of the historic Advisory Committee to the Trustees which enthusiastically undertook the formation of the membership organization, International Urantia Association. As the Chairman of the IUA's Council of National Presidents & Vice Presidents for the past five years, he has served the worldwide membership of the International Urantia Association with grace and wisdom.
It is with great enthusiasm that the Trustees and staff welcome Seppo as a new member of the Board of Trustees. The Trustees are pleased to have someone of Seppo's experience serve with them in leading Urantia Foundation in the coming years.