Hong Kong Book Fair
Printer-friendly version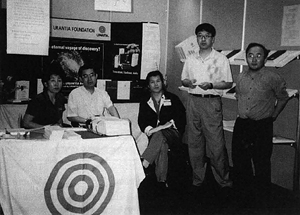 Urantia Foundation at Hong Kong Book Fair
For the first time this year, Urantia Foundation also had a booth at the Hong Kong Book Fair. A representative from the Australian office, as well as a third generation Chinese-Canadian reader, managed the booth and visited with bookstore owners and distributors. One distributor that distributes to Hong Kong, Shenzen, and Macão placed its first order for three hundred books. Our representatives also obtained information about Chinese companies that translate, print, and distribute foreign books in China.
During the book fair, an audiovisual on computer gave an overview of The Urantia Book in Chinese. An introductory brochure in Chinese was handed out, and many showed a genuine interest in the Book.
Our representatives also visited bookstores and distributors in Taiwan, where they secured another Asian book distributor for the English Urantia Book.
With three Asian book fairs visited by the Foundation this year - Korea, Singapore, and Hong Kong - and judging from the positive response, we feel that we have truly embarked on the challenging journey of introducing The Urantia Book to our Asian brothers and sisters.