Welcome New Trustees - Gard Jameson, Mo Siegel
Printer-friendly version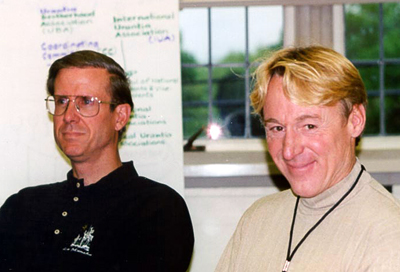 Gard Jameson & Mo Siegel
The Trustees of URANTIA Foundation are pleased to announce the appointment of Gard Jameson and Mo Siegel to the Board of Trustees.
Mr. Jameson has been a reader of The URANTIA Book for 26 years and is a Certified Public Accountant, financial planner, and internal auditor. Married with two children and living in Las Vegas, Nevada, he is currently a member of the General Council of the Fellowship and serves as the Chair of its Fraternal Relations Committee. He brings with him extensive experience in that he has served as a trustee on several boards of non-profit organizations.
Mr. Siegel has been a reader of The URANTIA Book since 1968 and currently serves as the Vice President of the Fellowship. Married with five children and living in Boulder, Colorado, he is the Chairman of the Board of Celestial Seasonings Tea Company and President of the Jesusonian Foundation. Mr. Siegel also has extensive experience as a trustee on the boards of both profit and non-profit organizations.
In becoming Trustees of URANTIA Foundation, Mr. Siegel and Mr. Jameson will resign their executive positions in the Fellowship and become members of the International URANTIA Association, a worldwide fraternal group formed to assist URANTIA Foundation in disseminating the teachings of The URANTIA Book.
Although the appointment of Mr. Jameson and Mr. Siegel may come as a surprise to many readers, the Trustees, by electing these two gentlemen, are exhibiting their commitment to making their policy of unity among all readers and reader groups a reality.
Richard Keeler, President of URANTIA Foundation said, "May we join with our Heavenly Father, with our Creator Son, and with our brothers and sisters-seen and unseen-to participate in patient cooperation and selfless service to our young movement. May we all be so saturated with the love, truth, and goodness of God that all persons coming into contact with us will know from our behavior that we are truth seekers and spiritual explorers, dedicated to the supernal task of doing the will of our Heavenly Father."
With the appointment of Mr. Siegel and Mr. Jameson to the Board of Trustees, URANTIA Foundation and the International URANTIA Association are making a positive and evolutionary step forward. We are confident that with patient co-operation among reader groups, we can move forward into the twenty-first century, and that together-with respect for one another's knowledge, experience, and opinions-we can be about our Father's business in the spirit of peace, unity, patient cooperation, and selfless service.