Trustees Appoint Advisory Committee
Printer-friendly version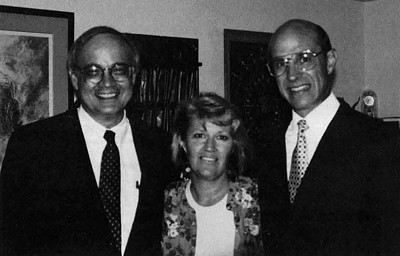 Martin Myers, Trustee (left), Tonia Baney, Chairperson
Pro Tern of the Advisory Committee to the Trustees (center),
and Richard Keeler, Trustee (right) at a meeting with readers
in Phoenix, Arizona.
The Trustees have been anticipating the moment when we could begin to confer with readers in a more definite way to plan for the future. That time has arrived and we have invited seven readers to become members of the Advisory Committee to the Trustees for Friends of URANTIA Foundation and URANTIA Brotherhood Association. We will call this group ACT and we are asking their, and others', help as we prepare to do just that, to act, but in a thoughtful, careful manner.
ACT will primarily serve as a sounding board and a resource for ideas on how to proceed in a practical way with the efforts of Friends of URANTIA Foundation and the implementation of URANTIA Brotherhood Association. ACT will function in an advisory capacity to the Trustees for the remainder of 1991 and all of 1992. We believe that the advisory committee should select its own operating methods, and we have asked that ACT begin its activities by formulating a general program and budget, subject to approval and funding by the Trustees.
Although we would like other readers of The URANTIA Book to know that ACT exists, the advisory body is not meant to be a political body. To insulate them from political pressure, ACT members will preserve the confidentiality of their deliberations and communications with the Trustees, but they will develop and pass along to us any helpful ideas they may receive from others.
ACT's deliberations will be independent of ours, but we plan to meet with them from time to time to enhance the exchange of ideas. We know that the presentation of The URANTIA Book is an evolutionary process and that human wisdom must evolve. The members of ACT bring a tested experience which we believe will further the social and fraternal aspects of our efforts to disseminate the teachings. We look forward to working with them in this challenging adventure of helping in practical and realistic ways to prepare for a new age on Urantia.
We have invited the following persons to serve on the advisory committee, and each has agreed to help:
Tonia Baney
Seppo Kanerva
Thomas C. Burns
Herbert L. Klemme
Catherine Jones
James C. Mills
Philip A. Rolnick
Tonia will be Chairperson Pro Tem until the committee has had an opportunity to select a permanent chairperson. We are looking forward to a very productive and satisfying experience working with this group. We appreciate their willingness to serve.