Mr. Seppo Kanerva Joins The Foundation Staff
Printer-friendly version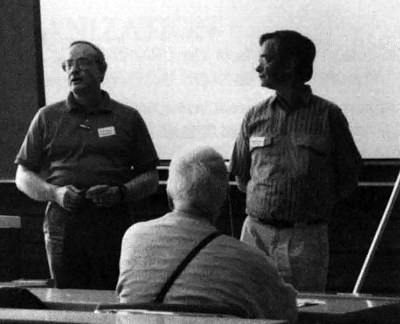 Seppo Kanerva (on right) the new Technical Editor for
the Finnish and Spanish translations, translating at the
Summer Days Conference held in June 1991 at Hartola, Finland.
The Trustees are proud to announce that Mr. Seppo Kanerva of Helsinki, Finland, will be joining the Foundation staff later this year. Mr. Kanerva, the translator of The URANTIA Book into Finnish, will help to complete the Finnish translation and will format it and the Spanish translation for direct input to the printing presses. Because of his notable language skills (Finnish, English, Swedish, French, Spanish, German, and Russian) and other abilities, he also will help with certain other translation and publication duties.
Mr. Kanerva has worked as a freelance translator for many years, and is an Official Translator of English to Finnish. He has performed business translations and has also worked as a Simultaneous Interpreter (English-Finnish) at press conferences, international congresses, and meetings for such organizations as the Finnish United Nations Association and the Ministry for Foreign Affairs.
From 1974 to 1980, Mr. Kanerva served as a member of the Foreign Ministry's Advisory Committee on Finnish UN Policies. He attended the first UN General Assembly Special Session on Disarmament in 1978, as well as the General Assemblies of 1978 and 1979. He has also studied law and related subjects.
We are all very pleased that Mr. Kanerva will be joining us.