Friends of URANTIA Foundation
Printer-friendly version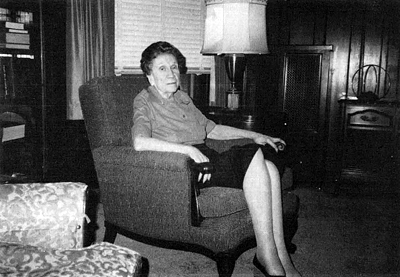 A member of the "Forum" and Chicago Group for the Study of
The URANTIA Book, Helen Carlson is also the first member of
Friends of URANTIA Foundation.
In August 1990, the Trustees announced the formation of Friends of URANTIA Foundation, an association of readers of The URANTIA Book who wish to support the goals and purposes of URANTIA Foundation. Requests to join Friends have come from Argentina, Australia, Belgium, Bermuda, Brazil, Bulgaria, Canada, Chile, Columbia, the Congo, Cote d'Ivoire (Ivory Coast), Denmark, the Fiji Islands, Finland, France, Germany, Ghana, Guatemala, India, Japan, Mauritius, the Netherlands, New Zealand, Nigeria, Norway, Peru, the Philippines, Puerto Rico, Saudi Arabia, South Africa, Spain, Tanzania, the United Kingdom, Zaire, Zimbabwe, and all fifty of the United States. All in all, more than 1,100 households, from many parts of the world, have expressed support for URANTIA Foundation and its programs and policies.
Once URANTIA Brotherhood Association is fully operational, Friends of URANTIA Foundation may be discontinued. In the meantime, Friends will serve as an informal support group and as a forum for discussing the constitution and operation of URANTIA Brotherhood Association, as well as other programs of URANTIA Foundation.
Following is a sampling of the comments we have received from some of the participants in Friends of URANTIA Foundation.
"We both feel that the one-to-one approach has always worked best when sharing our experience of reading The URANTIA Book with our brothers and sisters. "

"I feel strongly that the way to introduce The URANTIA Book is by word of mouth in a grass-roots movement. The awareness of the book will grow slowly but inexorably. The concepts of Friends of URANTIA Foundation are compatible with mine. "

"In short, I can say that the simple principles of minimal organization, proper procedures, and slow growth seem to be a good direction. "

"Now that I have arrived at that place within myself where I can profess my belief in and commitment to the book, I feel the need to become more involved in the fellowship of readers. "

"I can support the Foundation in whatever ways it needs. I trust the Foundation. 1 am very interested in continuing the study group here which we recently established. As of now we have only two people, but. ... "
These are only a few of the expressions of support for, and an understanding of, Friends of URANTIA Foundation. But they are a fair cross-sampling. If you share these or similar feelings or beliefs, and you are not already a participant in Friends of URANTIA Foundation, we cordially invite you to become one. You may contact Damian Bondi at the Foundation office for an application.