Current Office Organization
Printer-friendly version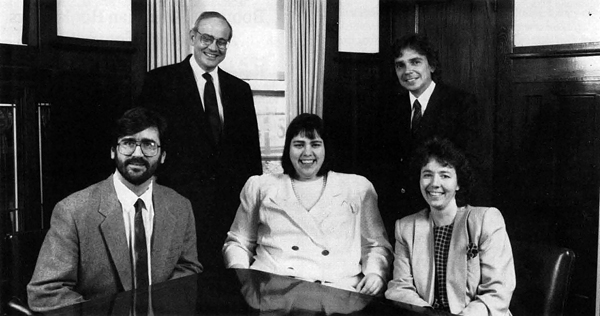 The Staff of URANTIA Foundation, from left to right:
Front row: Damian Bondi, Sheila Schneider, Joan Kang
Back row: Martin W. Myers and Robert Solone.
Over the last two years, the Trustees have reorganized the Foundation office, hiring new staff, but reducing the total number working at 533 Diversey. The result has been an easier, more businesslike administration of Foundation affairs. Efficiency has been boosted by office automation centered on a computer network that allows each member of the staff direct access to the central database. In addition to office automation, the offices have been refurbished, and we are better able to receive guests and to accomplish our various tasks.
Two of our busiest departments are the Reader Services Department and the Book Department. The Reader Services Department answers mail and telephone inquiries, and enables readers to find one another and to locate study groups in their areas. The Book Department handles all aspects of printing and distributing The URANTIA Book, its translations and associated study aids. This includes taking orders, delivering materials to the post office, attending trade shows, and working closely with our printers.
The office staff consists of four employees and the Executive Director. A Technical Editor will soon be joining our staff to help with translation matters. Also, volunteers give their time and services.
The Trustees are delighted to have the following staff to assist with the work of the Foundation.
Martin W. Myers: Executive Director
Joan E. Kang: Office Manager/Certified Public Accountant
Sheila Schneider: Administrative Assistant
Robert Solone: Publications Review/ Reader Services
Damian Bondi: Reader Services/ Book Department
Helen Carlson: Friend and Counselor
We hope that the following biographies will help you get to know our staff a little better.
MARTIN W. MYERS
Martin is currently Executive Director and President of URANTIA Foundation which he has served in various capacities since 1971. Martin was also a General Councilor of the former URANTIA Brotherhood for fifteen years, Chairman of the International Fellowship Committee and member of the Executive Committee for six years, and a member of the Judicial Committee for ten years.

Since October 1989, Martin has worked full time at the Foundation's offices. As Executive Director, Martin's experience in URANTIA affairs is a significant asset in implementing and coordinating Foundation operations.

Martin is married to Diane Elder, and they have a one and one-half year old son, Robert James.
JOAN KANG
In January 1991, Joan became the office manager at the Foundation's headquarters. Joan had been serving URANTIA Foundation and its affilliates as an independent Certified Public Accountant since October 1989. Previously, she had worked as a staff accountant for an accounting firm which provided services for URANTIA Foundation, the former URANTIA Brotherhood, and Foundation affiliates Andite Corporation, and Amadon Corporation.

In her calm, practical manner she encourages an atmosphere that emphasizes team work, cooperation, and efficiency.

Joan was graduated from the University of Illinois at Chicago with a degree in Business Administration. She is originally from a small town in Wisconsin and currently lives in a suburb of Chicago with her two children.
SHEILA SCHNEIDER
Sheila moved to Chicago in 1981 from her hometown, Champaign, Illinois. She has worked for the State of lllinois, an insurance company, and a tax firm. She joined the staff of the Foundation in August 1988.

She is the Administrative Assistant for the Foundation and our computer and word-processing expert. She also works with the Foundation's attorneys on trademark matters and is the editor of this newsletter.

Sheila's responsibilities are numerous and varied. Her multi-faceted abilities have been a great help to the Trustees.

Most of Sheila's family live in Illinois. She is an old movie buff, a computer devotee, and a fine arts enthusiast.
ROBERT SOLONE
Robert has been a reader and serious student of The URANTIA Book since 1984 and has been attending the study group at 533 Diversey since 1985. In February 1990, after some volunteer work, Robert joined the staff of URANTIA Foundation on a part-time basis.

He is a person with an eye for detail, a trait which aids him in proof reading and reviewing publications that make use of material from The URANTIA Book. He also assists in answering letters and telephone calls.

Robert is a professional pianist and composer who has performed his own music with an orchestra at Carnegie Recital Hall. He has also performed at URANTIA conferences in the midwest and in Maine.

Robert lives on the north side of Chicago and has a 10 year old daughter.
DAMIAN BONDI
The newest member of our staff, Damian joined us in November 1990. He has been a student of The URANTIA Book since 1975. In that same year he began attending the study group at 533 Diversey.

In late 1989, Damian began volunteering his services at 533 and now works full time in the Reader Services Department and the Book Department. He has communicated with numerous readers from across the country and from other countries.

Damian lives in Whiting, Indiana and has been employed for over eighteen years, at a local steel mill. He continues his participation in Chicago Group for the Study of The URANTIA Book, the study group which meets at 533 Diversey Parkway.
HELEN CARLSON
As a friend of the Foundation, Helen Carlson has been of great service and support. Though not officially a staff member, Helen's presence at 533 Diversey is a continuing comfort and inspiration to the rest of the staff.

Helen began her study and association with the URANTIA Papers in 1935. She was a member of the Forum, the group that studied the URANTIA Papers before they were published.

For many years Helen served on the Education Committee. She also served as Registrar and Secretary of the URANTIA Brotherhood School. Until January 1990, Helen was treasurer of the former First URANTIA Society.

Helen's experience has made her a valuable source of insight and advice. Her enthusiasm and good humor inspire everyone at headquarters.
We are proud of our staff and, because of them, we are all the more confident of the future.