Urantia Foundation Annual Report 2017
Printer-friendly version
Dear friends of Urantia Foundation,
When you see the suffering in the world, the more you understand how vital it is to share the message of The Urantia Book that we are all children of the same loving Heavenly Father. The proof of our experiencing God's love is shown by the amount of love we give our fellows. Jesus made it clear that we are to love one another as he loves us, no matter a person's race, religion, gender, economic status, or nationality. Imagine how much happier our world will be when more people experience the joy of following Jesus' instruction.
The gospel of love and hope in The Urantia Book is the saving grace for this world. Nothing could be more important than individuals receiving a new spiritual vision that transforms their inner life. You help make this happen by giving your time, talent, and treasure supporting Urantia Foundation in spreading these teachings. Thank you for working with us! The Foundation's achievements stand on your shoulders because of your dedication, unselfish devotion, and courageous loyalty. Your support is more important than ever, and every dollar goes to changing lives. With deep appreciation and gratefulness, we salute you. Future generations will inherit your legacy of love made real by your generous actions today.
Mo Siegel
On behalf of the Trustees of Urantia Foundation
Click here to read the Annual Report as a PDF
Books and Distribution
19,779 books distributed
14,000 books printed in English, Spanish, and Portuguese
130,732 books downloaded in 127 countries from urantia.org and the Apple app
432 outreach books gifted globally
Website
1,190,389 sessions at urantia.org
679,184 unique visits
Percentage of new users—56.3%
Mobile usage­—54.1%
Urantia Book Internet School
To date, 1,845 students have registered.
(1,094 in English, 396 in Spanish, 183 in Portuguese, and 172 in French)
41 courses offered in 2017

20 in English
9 in French
10 in Spanish
2 in Portuguese
Retreats, Workshops, and Co-Sponsored Events
Our Quest for Consciousness Mini Program
Dancing with God IV Women's Retreat
Joint Education Seminar with the Urantia Book Fellowship and Urantia Association
Sponsorship of Urantia Association Book Fairs in Latin America
Sponsorship of the Urantia Book Fellowship IC'17
Translations and Revisions
If the revelators experienced such challenges, imagine the obstacles our devoted translators and revisers encounter. We are indebted to each of them for their valiant efforts!

16 Translations

Bulgarian
Dutch
Estonian
Finnish
French
German
Hungarian
Italian
Korean
Lithuanian
Polish
Portuguese
Romanian
Russian
Spanish
Swedish

3 Ongoing Revisions

Portuguese
Russian
Spanish

8 Ongoing Translations

Danish
Farsi
Czech
Hebrew
Chinese
Japanese
Indonesian
​Greek
Financials
Book Revenue

Jan-Dec 17

Sales of The Urantia Book

$170,535

Cost of Goods Sold

($159,373)

Gross Profit from Books

$11,162

Public Support and Non-Book Revenue
Restricted Contributions

$36,627

Unrestricted Contributions

$733,674

Other Income

$92,719

Total Support and Non-Book Revenue*

$863,020

Functional Expenses
Program Expense

($552,292)

General and Administrative Expense

($160,036)

Fundraising Expense

($46,295)

Total Functional Expenses

($758,623)

Change in Net Cash Before Investments

$115,560

Supplemental Items
Book Printing

($117,406)

Change in Operational Net Cash
before Investments less Book Printing

($1,846)

Income vs. Expense and Book Printing
Income Received

$1,033,555

All Expenses and Book Printing

$1,035,401

Functional Expenses
Before Supplemental Items
Programs Expense

73%

General and Administration Expense

21%

Fundraising Expense

6%

Sources of Revenue
Gross Profit from Books

1%

Restricted Contributions

4%

Rent and Other Income

11%

Unrestricted Contributions

84%

* Does not include Revelation Bridge
Endowment Fund and Non-Cash Gifts
Revelation Bridge Endowment Fund

$1,285,296

Non-Cash Gifts

$42,797
Mark Khoury
A Tapestry of Love
By Mark Khoury, Lebanon

The love of God was woven into the fabric of my upbringing. I was taught to be loving and thankful for both the good and the bad in life. It was hard to understand this at times, but I sallied forth with faith.

In my heart I knew that love was the way, but until I read The Urantia Book I wasn't sure how and why. With Jesus, I was given the water; with The Urantia Book, I was given the science explaining the molecular composition of this water. The actual physics behind it all finally became clear to me.

This age of scientific thinking requires a scientific religion. Learning how the science of religion, the science of spirituality, and the science of philosophy coexist with one another is what was so fulfilling and transformative for me.

Love weaves a tapestry that binds everything together. The Master said it best when he declared that "my Father in Paradise does rule a universe of universes by the compelling power of his love. Love is the greatest of all spirit realities." 143:1.4 (1608.1)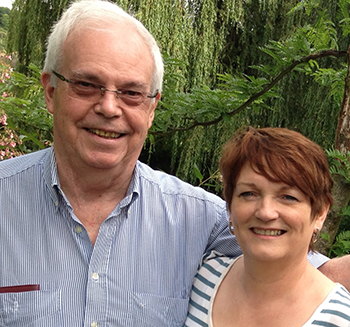 Henk and Claire Mylanus
A Labor of Love
Henk Mylanus, European sales manager, retired to Trustee Emeritus in October 2017. The provisions he made for the distribution and sales of The Urantia Book and its translations throughout Europe will remain a lasting legacy.

This brilliant and well-educated businessman tackled the challenges of finding distribution for The Urantia Book in Europe, where the market is complicated, highly regulated, and not in favor of a foreign publisher. With his wife, Claire, they traveled across Europe, interviewing countless distributors until contracts were signed.

Thanks to their efforts, book distribution has been secured in Austria, Belgium, Estonia, Hungary, Italy, Luxembourg, Poland, Sweden, and Ukraine. We are forever grateful!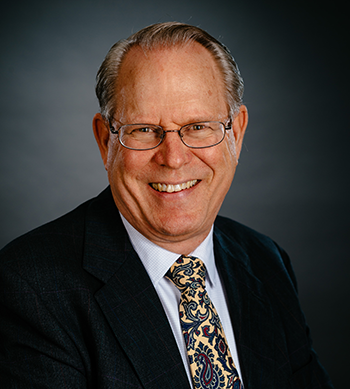 Larry Watkins, 1942-2018
Loving Service
Urantia Foundation recently lost one of its most devoted workers, Larry Watkins. His great faith in the teachings of The Urantia Book enabled him to greet death with confidence and poise.

A computer programmer who worked for IBM, Larry was a vital force in protecting and standardizing the digital text of The Urantia Book in seventeen languages. Most of us will never appreciate what a tireless workhorse Larry was as he labored behind the scenes producing customized text files. To better understand the monumental size of the task, consider that there are 16,212 paragraphs in the book. Each one needed a unique paper, section, paragraph identifier. Larry did this in all seventeen languages and never grumbled even though the work was mind-numbingly tedious.

Larry, you will be greatly missed!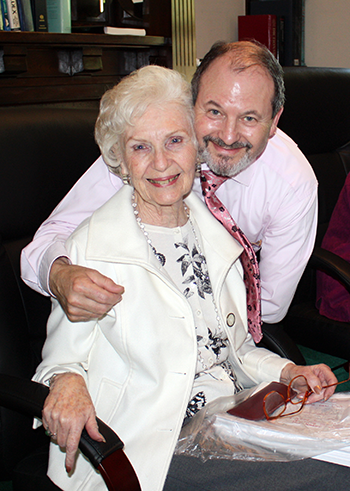 Dorothy Elder
& Georges Michelson-Dupont
Love in Action
In 1998, Georges shared with Dorothy his plan to create a school using "new technology" called the Internet. He envisioned isolated readers around the world studying the teachings of The Urantia Book with others. Dorothy and Georges worked together and came up with the format and pedagogy for the Urantia Book Internet School.

Dorothy's intelligence, combined with a natural charisma, her love for the revelation, and a desire to serve, were assets that allowed her to launch an enduring legacy. The most difficult part of any project is the start-up, and Dorothy succeeded beyond all expectations. Twenty years later, students around the globe are grateful for the opportunity to deepen their understanding of the teachings in a fraternal setting, free of charge.

Thanks to the ingenuity and foresight of Trustee Georges Michelson-Dupont and founder Dorothy Elder, UBIS now enters its twentieth year!
The Revelation Bridge Endowment Fund
Established 2017

The Revelation Bridge Fund is an endowment for future generations to insure that they inherit a financially secure Foundation that is safeguarding the text of The Urantia Book and its translations.

Our deepest gratitude and thanks go to four donors who collectively gave $1,287,000 to this fund in 2017. It is the Foundation's intent that neither the principal nor interest be used in the next twenty-five years, thus safeguarding the revelation into the future.

Richard Keeler
Maureen O'Dwyer
Mary Lou Hales
The Malcolm Neal Family Trust

Create a more meaningful legacy by helping sustain Urantia Foundation for your grandchildren and beyond. Please call your lawyer or write a notarized codicil to assign assets in your will to the Revelation Bridge Fund. For more information visit http://urantia.plannedgiving.org/.
spiritual light is shining brighter and brighter!
Trustees:
Gard Jameson
Richard Keeler
Marilynn Kulieke
Georges Michelson-Dupont
Henk Mylanus
Mo Siegel
Judy Van Cleave
Associate Trustees:
Marta Elders
Víctor García-Bory
Richard Jernigan
Sherry Layton
Guy Perron
Lucretia Schanfarber
Ralph Zehr
Staff:
Ashley Hayes
Joanne Strobel
Tamara Strumfeld