Year End Matching Fund Drive - 2012
Printer-friendly version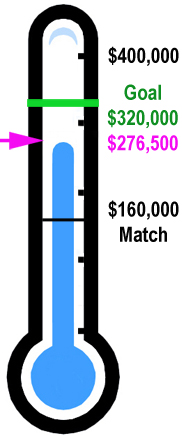 Dear Friends of Urantia Foundation,

We are pleased to announce our 2012 Year End Matching Fund Campaign! A group of generous donors has pledged $160,000 to match your donations, dollar-for-dollar, from now through December 31, 2012. This means that Urantia Foundation will have to raise an additional $160,000 to benefit from this offer.
What projects will your donations fund?
Creating or revising translations:

Chinese (revisions and proofing before the first printing);
Farsi (original translation);
Indonesian (original translation);
Japanese (revisions and proofing before the first printing);
Hebrew (original translation);
Czech (original translation);
Spanish (revision);
Portuguese (revision);
French (revision);
Russian (revision);
Hungarian (revision).

Keeping The Urantia Book on bookstore shelves in over 36 countries.
Publishing and printing The Urantia Book in 15 languages.
Renovating the office building at 533 W Diversey Parkway.
Providing outreach efforts on the internet at www.urantia.org.
Creating and managing educational programs, such as the Urantia Book Internet School and seminars at Urantia Foundation 's office in Chicago.
Urantia Foundation needs your help! Please consider making a contribution towards our Matching Fund. You make a big difference. With your help the dissemination of
The Urantia Book
and its teachings are quietly and steadily spreading throughout the world. Thank for your support, your prayers, and your dedication to this new revelation.
"When man goes in partnership with God, great things may, and do, happen." (1467.5) 132:7.9
In service,
The Trustees, Associate Trustees, and Staff of Urantia Foundation
Donate via Web:
Donate by Phone:
In U.S. - Central Standard Time - 1.773.525.3319
International - 01.773.525.3319
Donate by Mail:
Urantia Foundation
533 W Diversey Parkway
Chicago, Illinois, 60614