Ralph Zehr
Printer-friendly version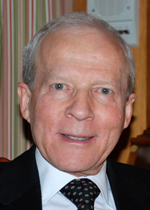 The Urantia Book with its profound, advanced teachings became a part of Ralph and wife Betty's life in the fall of 1967 while a medical missionary in Ghana. Its impact was immediate and continues to grow after more than 40 years. Words cannot express his gratitude for having found the book early in his parental and professional careers.
Ralph and Betty have two adult children, both readers, and three grandchildren. Betty is a recently retired public school teacher, reading specialist, and Ralph will be a retired radiologist at the end of 2009, terminating 45 years of medical practice.
In addition to his regular practice, his professional experiences include Director of Radiology Residency Program, appointment as an Assistant Clinical Professor, Education Committee Member, Chairman, Department of Radiology, Member of Board of Trustees, Guthrie Healthcare System, Editor-in-Chief of Guthrie Journal, Secretary, Vice President, President of Medical Staff, of more than 200 physicians.
Betty and Ralph have hosted study groups in their home for many years. They have recently completed their first course as team Teacher/Facilitators for Urantia Book Internet School, a deeply inspirational experience. They also serve on the board of UBIS. Ralph is a founding member and executive board member, presently serving as president for New York – Pennsylvania Urantia Association. They have hosted bi-annual association meetings in their home for the past 11 years. He has served on various national committees and Foundation initiatives.