Marta Elders
Printer-friendly version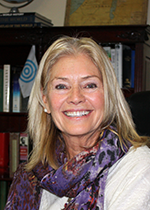 Marta has been a student of The Urantia Book since 1970 and has been committed to living and disseminating its teachings since that time. She was a charter and founding member of the Connecticut Society of the Urantia Brotherhood and has served in numerous capacities over the years.
She lives in Darien, Connecticut, USA, with her husband, Dave, and near one of her sons and his family. Her other son lives in California with his family.
Marta is a licensed counseling psychologist and practices in Connecticut and New York, working with individuals, couples, and groups. In addition to serving as an Associate Trustee of Urantia Foundation, she is the president of the Marion Woodman Foundation, a Jungian-based organization committed to embodying spirit.
Marta says, "My joy is soul work."