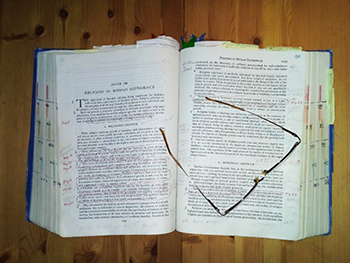 Is your beloved Urantia Book looking dog-eared?
Are you tired of lugging a heavy book to conferences, seminars, or study groups?
Do you reach for your reading glasses because your Urantia Book's font is too small?
Are you constantly flipping through the pages to find a favorite quote?
If you answered yes to any of these questions, then you will love our new e-book!
Urantia Foundation is pleased to bring The Urantia Book Enhanced Edition to the electronic device of your choice: smartphone, tablet, or an e-reader such as Kindle [2] or Kobo [3].
Now more than ever, people love the idea of doing everything from virtually anywhere on any device. Electronic "e-books" have revolutionized the way we read and study.
Reading and studying The Urantia Book has never been so convenient, or portable. For the first time you can enjoy a library of study aids at your fingertips for the low price of $5.99.
• An exhaustive index

• Definition of terms

• Pronunciation guide

• Adopted corrections to the original text
No matter what the size of the device you are using, our e-book will always fit your screen.
You can customize the font size to fit your eyes. No more squinting or reaching for your glasses.
Enhancements include links from the study aids back to the text.
An easy-to-use navigation bar reduces scrolling through the entire paper.
Conveniently jump from one section to another while cross-referencing topics.
You can buy this e-book with the touch of a button and download it instantly.
The Urantia Book Enhanced Edition will make studying the book easier. Buy your copy and start reading now!