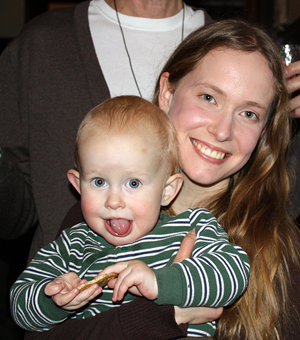 Alice Wood and Huck
By Alice Wood, Green Bay, Wisconsin, USA
Humans have an innate "love of adventure, curiosity, and dread of monotony." (159.6) 14:5.10 Before having my son, Huck, I looked at my own life—the habits I had developed, routines I had fallen into—and I wanted to do something new. Ironically, embarking on a parental adventure led me into the monotony of parenting. When I'm feeling burdened by having to repress my desire to satiate my desire for adventure (the Grand Canyon has been calling to me for months), I take comfort in knowing that my parenting experience has boundless value in enlarging my understanding of the relationship between God and his children. The Urantia Book states, "A true family—a good family—reveals to the parental procreators the attitude of the creator to his children." [942.1] 84:7.30 This statement has given me a purpose that affects me daily. Every moment provides me with an opportunity to learn about an ideal child-like attitude toward the Father.
A few months ago I was talking to a Buddhist and another reader of The Urantia Book. The Buddhist said that she did not want to have children because she wanted to focus on reaching Enlightenment. My immediate response was to nod my head, thinking that, like learning the violin, attaining Enlightenment would be put on the back burner upon having children. The Urantia Book reader, however, asked her the question, "Do you not think that the experience of having children would help you reach Enlightenment?"
Yes, singing children's songs all day can be monotonous, and when I have a crying child and pureed peas in my hair, I cling to the knowledge that the overall effect of parenting will be enlightening.
I can't estimate how much time I have spent doing nothing of any spiritual worth, forcing my Thought Adjuster to wait until my Thursday night sitcoms are over, and fighting off—I am sure on too many occasions—my Adjuster's prompting. But God continues to love me and tirelessly encourages my growth. Like myself, Huck has a lot to learn about trust, and it comes easier for him in some situations than in others. He has recently begun walking, and I have been struck by how easy it can be to get him to walk where I want him to. If I get down on his level, point, and say, "Let's go this way," he'll walk right alongside me. He does not know why we are going that way; all he knows is that he's been told "over there" is a good place to be. On the other hand, almost every diaper change comes with a fair amount of kicking and screaming. Wouldn't life be easier if Huck just accepted the diaper change and trusted that it was all for the best? Wouldn't life be easier if I just accepted God's will and trusted that it would lead me down the best path?
Hopefully I'll be able to look back on this experience with satisfaction and enjoy a long awaited friendship with Huck. From a universal standpoint, there will be one more Finaliter to embark on the glorious adventure in the outer space levels —one more Finaliter who will contribute to the growth of the Supreme. As beautiful as that is, what sustains me through the twentieth rendition of "Old McDonald" is the knowledge that, through this challenge, I will develop a greater understanding of how to be a child of God.