Donations Exceed the 2009 Matching Fund Raiser
Printer-friendly version
Author:
Trustees of Urantia Foundation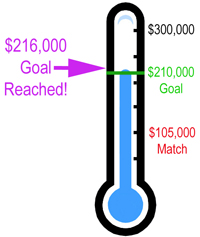 Thanks to your generous outpouring of support, Urantia Foundation's $105,000 matching year end fund raiser for 2009 was met and exceeded. Donors sent $111,000, and we deeply appreciate your financial help in safeguarding and spreading the teachings of The Urantia Book.
Thanks to you, in 2010, we will print 3 or 4 new translations, improve the new website, maintain our historic building, expand book distribution, launch the new audio book sales program, improve the software of The Urantia Book Internet School, and continue translation work.
Fraternally,
The Trustees of Urantia Foundation